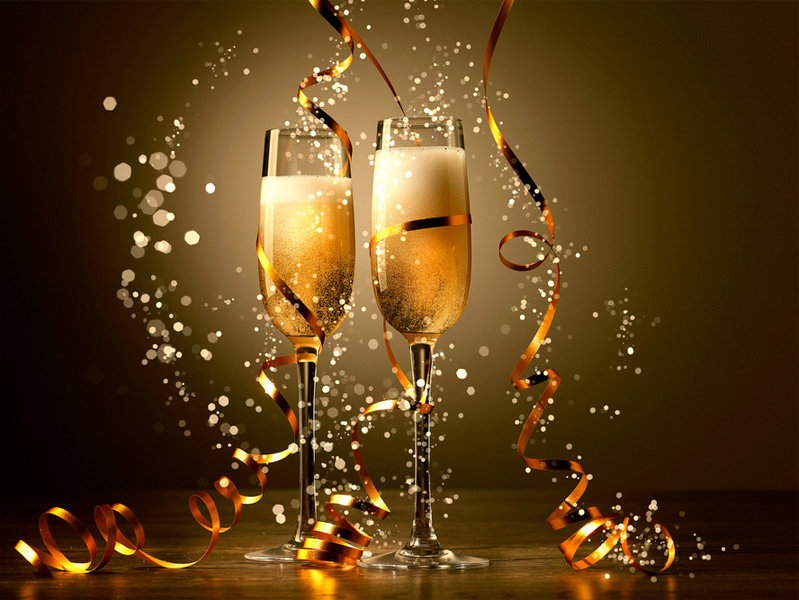 Where does the time go? We just got through our Thanksgiving leftovers, and now our Christmas tree is already going up! Next thing you know, it will be 2018, so we better start preparing! What better way than to plan the best New Years Eve yet with your family and friends? We've heard about so many fun events here in Charleston, we know it's going to be hard for you to decide. So, we're going to pick out our favorites, so you can sit back and enjoy the ride.
First, let's take a look at some of the big-ticket parties.
This year marks the 6th Annual Yorktown Countdown aboard the aircraft museum, where the historic landmark is transformed into Charleston's premier New Year's Eve event for just one night. Enjoy live music on three different stages, including The Midnight City band that claims "there is no style of music they can't perform."
Next, there's the Mansion Ball by the creators of Yorktown Countdown, held at the boutique Restoration hotel. Promoting a roaring 20's masquerade theme, this luxurious ball boasts a 'Great Gatsby-like experience', where everyone is treated like a VIP. We also have to give credit to a fellow Best of Charleston runner.
The 5th annual "Charleston Wonderland" at the Memminger Auditorium is an 'All-Inclusive Evening' nominated "Best Party 2015 / 2016" by the Charleston City Paper. We're told it's a 'Dress to Impress' fairytale evening, best fit for those looking for their perfect strike of midnight kiss.
One more noteworthy mention is the "Annual New Years Eve Snyder Grand Ball" at the SC Aquarium. It's black tie optional for those feeling a little fancy, and it also proudly supports the Alzheimer's Association, for a last-minute give back in 2017!
Now, let's talk about food because let's face it – food is one of the best holiday indulgences.
Our hotel partner hotel, Zero George is hosting a black tie, masquerade optional, seven (that's right, SEVEN) course meal WITH beverage pairings. We'll see you there.
If you're looking to enjoy some fireworks, SpritLine Cruises is having their annual "Sailebration"  dinner cruise, which is a four-course dinner, cruising from 9:30pm to 12:30am.
One more of our new favorites, the Cedar Room, will also be a great black tie option, with endless flowing food and drink by Mercantile and Mash.
We also recently checked out FILL Piano Bar, and on NYE they're offering a four-course meal at this dueling piano show, which we know will be a truly unique experience.
Best of all are the freebies, which are also best complimented by a sweet limo ride. For those looking for a great family-friendly option, look no further than Marion Square's Annual New Year's party. The kids can enjoy music, karaoke, and the festive lights, while the parents soak in the live music and art entertainment. Even more convenient is the location. Centrally located, you'll be able to hit any of the great options above as well since this event starts early, running from 4:00PM-10:30PM.
If you're looking for another more relaxing, early bird option, ask about our chartered, guided tours where you can explore the historic city and stop by the waterfront for fireworks and people watching at your leisure!
Whichever of the above you fancy, we want you to arrive in style and don't worry, we've got you covered. We have New Year's Eve Packages in all vehicle styles and sizes to compliment any and all of your plans, with a concierge touch. So, where are you going to be when the ball drops? Whatever plans you choose, count us in. You'll be the talk of the town in our stylish ride and, most importantly, we'll get you home safe and sound.